Dental Implants In Glenview, IL & Wilmette, IL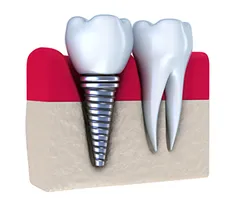 There are obviously many drawbacks to losing teeth. While there are several oral health concerns to consider, the toll that having missing teeth takes on our physical appearance can also have consequences on our social and emotional health and wellbeing. And although the options have never been better to both improve existing teeth and replace a missing tooth due to an accident or gum disease, there is something about the permanence of losing a tooth that keeps many people from seeking dental treatment. At the Colonial Dental Group in Glenview, IL, we want you to know that we are here to help you restore your smile. We provide top quality custom dental implants to patients in Glenview, IL and the Wilmette, IL area.

Dental Implants - The Next Best Thing to the Real Thing
Traditional tooth replacement methods like dentures and crowns and bridges do a fine job in repairing both the look and function of a damaged smile. Depending on the location, missing teeth can affect everything from our ability to eat, our speech, and even the health of the bone tissue in the gum, and the stability of the surrounding teeth. A denture or crown replaces the bottom half of the tooth, which is obviously very important. But dental implants go a step further, and replace the root of the missing tooth as well, making it the most permanent of the options currently available.
How Do Implants Work?
The implant consists of a cone-shaped titanium screw that your Glenview, IL dentist will insert to replace the root of the missing tooth. Once the implant has fused with the surrounding bone in the gum, your Glenview dentist will attach the crown of the tooth to the implant with an abutment, permanently securing the new tooth in place. Implants can be used to replace a single tooth or several. Once it has healed, the implants do not have to be removed for maintenance or care and are generally as stable and secure as a natural tooth.
Who is a Candidate for Dental Implants?
People with sufficient healthy bone tissue and in good general health are typically eligible for implants. This can only be determined after a complete oral examination by your dentist, including x-rays of your jaws. Please schedule a consultation to begin the exciting process of restoring your smile and bite.


If you need a permanent option to replace missing teeth, dental implants are an excellent choice! To learn more about dental implants or to make an appointment call Colonial Dental Group today at (847) 729-2233. Serving Glenview, IL & Wilmette, IL.