My Dentistry Blog
Posts for: November, 2016
By Colonial Dental Group
November 15, 2016
Learn how these tooth replacements can give you back that healthy smile.
You have options when it comes to how you treat your tooth loss, so don't feel defeated if this happens to you. Dental implants offer a
long term tooth replacement option. If you have a dental implant and are having issues with your restoration, our Glenview dentists can help restore your smile. Find out more about how dental implants work and how we can help.
What are dental implants?
These small titanium posts are designed to act just like tooth roots and are placed into the jawbone. Since these implants are biocompatible they actually meld together with bone and tissue to become a fixed, permanent foundation from which to hold a dental crown or even a full set of dentures.
One implant can be used to replace a single tooth or a series of implants can be embedded to secure a full set of dentures into place. Dental implants give you peace of mind that your dentures won't slip or move out position while eating.
While dental implants are a bit more expensive upfront than other dental restorations like bridges or dentures, they are worth the wait. Though dental implants are a long-term tooth replacement option, you do need to be dedicated to caring for and maintaining your restoration for the rest of your life. They are meant to last a long time, but there are still issues that can arise with implants. The crown or the visible portion of the dental implant can become damaged or fractured just like natural teeth. If these happens, we can assist in restoring your dental implant by fixing or replacing the crown, thus restoring the look and function of your smile.
To find out whether a dental implant is the best approach to your tooth loss you'll want to schedule a consultation with Colonial Dental Group in Glenview, IL. Finally, get the smile you know you deserve. Call our office today to schedule your next appointment.
By Colonial Dental Group
November 15, 2016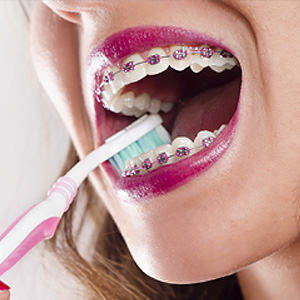 If you or a family member wears braces, you're used to visiting your orthodontist for adjustments and progress monitoring. But it's just as important that you continue regular visits with your family dentist, especially if you begin noticing abnormalities with your teeth and gums.
We need to be on alert for dental health because risks for disease increase during orthodontic treatment. Most oral infections arise from plaque, a thin film of bacteria and food particles on tooth surfaces. You avoid plaque buildup by brushing and flossing at least once a day and undergoing semi-annual office cleanings for any remaining plaque and calculus (hardened plaque deposits).
Braces, however, can complicate hygiene. It's harder to get into areas blocked by the brackets and wires with your brush or floss. This can quickly give rise to gingivitis, a form of periodontal (gum) disease characterized by gum swelling. If not treated, gum disease could eventually cause the gums to detach from the teeth and lead to bone and tooth loss.
The brackets and wires can also irritate the gums and cause them to swell or overgrow, a condition called hyperplasia. This further complicates proper hygiene, which then increases the risk for infection even more.
It takes more time and effort to brush and floss effectively while wearing braces. But it's necessary to prevent these problems. Interproximal brushes (which fit in the spaces between teeth) can help, as well as special floss threaders. You might also consider a water flosser, which use a high-pressured water spray to remove plaque between teeth.
And, don't neglect seeing us on a regular basis. If you notice gum swelling, redness or bleeding, contact us as soon as possible.
If the swelling is due to hyperplasia, treatment could wait until after the braces come off, as long as there doesn't appear to be any gum detachment from the teeth. If there is, though, you may need to see a periodontist (a gum specialist) for further evaluation. It may be necessary in advanced cases to remove the braces to treat the underlying gum condition.
It pays to keep a close eye on your teeth and gums while wearing braces. Catching problems before they become too serious will help ensure your new smile is just as healthy as it is attractive.
If you would like more information on dental care while undergoing orthodontic treatment, please contact us or schedule an appointment for a consultation. You can also learn more about this topic by reading the Dear Doctor magazine article "Gum Swelling during Orthodontics."