My Dentistry Blog
Posts for tag: periodontal disease
By Colonial Dental Group
March 27, 2019
According to the American Dental Association, 47.2 percent of adults over the age of 30 have chronic periodontitis in the United States.
Periodontal disease is also the leading cause of tooth-loss in adults, which is why you need to make sure you visit your Glenview, IL, dentist, Dr. Alexander Quezada, for your bi-annual dental checkup.
Periodontal Disease:
Periodontal disease, also known as gum disease, is caused by plaque. Dental plaque is a sticky substance that contains bacteria after someone consumes a sugar-containing meal. When teeth aren't thoroughly brushed, the buildup of plaque on teeth becomes hard tartar.
When tartar, or calculus, accumulates on your gums, you may notice swelling and your gums bleeding easily. If you start noticing these symptoms, this means you're experiencing gingivitis.
Here are some more symptoms to keep a lookout for:
Bad breath or bad taste that persists
Gums pulling away from teeth
Loose permanent teeth
Gums that are red, bleed easily or are swollen
Reasons for Gum Disease:
Besides plaque, which is a result of poor dental hygiene, there are other factors that contribute to the increased risk of periodontal disease:
Crooked teeth that can't be cleaned properly
Pregnancy
Diabetes
Smoking and chewing tobacco
Medications
Genetics
Prevention:
You should have an oral and dental examination at your Glenview family dentist's office every six months. Make sure to brush your teeth twice a day; brush your teeth after you eat breakfast and before you go to bed with a soft-bristled toothbrush. In addition to brushing, flossing daily, before going to bed, will help remove food debris, and reduce the buildup of plaque.
In addition to oral hygiene, avoid eating sugary foods, like sodas and candy. Resort to a healthier diet, like apples and carrots which help scrape off tartar from the surface of your teeth, and drinking water, which can wash away food particles.
If you want to schedule an appointment with Dr. Alexander Quezada for a bi-annual checkup or because you suspect you may be suffering from gum disease, call (847) 729-2233. His office is conveniently located in Glenview, IL, so don't hesitate to visit your dentist as soon as possible.
By Colonial Dental Group
January 30, 2017
It takes only a short time neglecting your oral hygiene before you begin to notice some unpleasant things with your gums: swelling, redness or even bleeding. These are all signs of gingivitis, a periodontal (gum) disease that arises from bacterial plaque, a thin biofilm that builds up on tooth surfaces when a person doesn't brush or floss.
Fortunately, early stages of gingivitis can be treated effectively with comprehensive plaque removal during one or more office visits. If, however, it's not dealt with early, it can develop into something much more serious: acute necrotizing ulcerative gingivitis (ANUG). This form does more than leave you with unattractive teeth and gums and terrible breath — it could eventually cause you to lose your teeth.
ANUG is also known as trench mouth, a common ailment among front line World War I soldiers without access to proper dental care and hygiene. It's most prevalent today among individuals who are under a great deal of stress, not sleeping or eating well and haven't cleaned or properly cared for their teeth for an extended period of time. Tobacco smokers also seem more susceptible than non-smokers to the disease, perhaps because smoke dries the mouth and changes the bacterial environment.
Unlike common gingivitis, ANUG can be quite painful. In effect, the gum tissues begin to die (necrotize), especially the triangular peaks between teeth known as papillae. Besides the other symptoms of gingivitis, the tissues may become yellowish.
ANUG can be treated effectively. The first step is to relieve the symptoms of pain and inflammation through medication. The focus then shifts to treating the underlying cause, bacterial plaque. Besides plaque removal common in any treatment for gum disease, we may also need to initiate antibiotic therapy. Metronidazole is a common antibiotic that's been demonstrated effective against the specific bacterial strain associated with ANUG. We might also combine this with an antibacterial mouth rinse containing chlorhexidine.
The final step belongs to you: to keep ANUG or any other gum disease from reoccurring, it's important for you to adopt a daily regimen of brushing and flossing, along with regular dental visits for thorough teeth cleaning and checkups. Taking this proactive approach will help ensure you won't suffer from this painful and unattractive form of gingivitis again.
If you would like more information on acute gingivitis, please contact us or schedule an appointment for a consultation. You can also learn more about this topic by reading the Dear Doctor magazine article "Painful Gums in Teens & Adults."
By Colonial Dental Group
May 03, 2016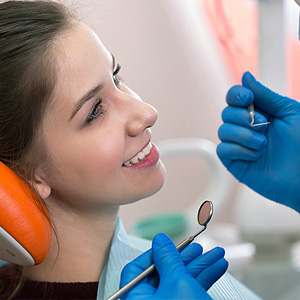 After treating you for periodontal (gum) disease for some time, we may suggest you see a periodontist, a specialist in gum conditions and diseases. There are a number of reasons for a referral, including the specific type of gum disease you may have developed.
Here are 4 more reasons why seeing a periodontist might be advantageous at this stage in your dental care.
Advanced treatment. All dentists are skilled in basic treatment procedures for gum disease, particularly removing plaque and calculus (hardened plaque deposits) that cause and sustain infections. But if your disease has advanced deeper below the gum line and has resulted in infection-filled void pockets between teeth and gums or in gum recession (the tissues shrinking back from the teeth), you may need more advanced techniques and equipment provided by a periodontist.
Advanced Cleanings. Regular, twice-a-year office cleanings are part of every dental care program. But depending on the severity of your gum disease (and your own hygiene efforts) you may need more frequent and advanced cleanings to keep recurring infections at bay. A periodontist can provide this, as well as help you develop a daily hygiene plan that meets your needs.
Your general health. There are a number of systemic conditions like diabetes, cardiovascular disease or pregnancy that can affect gum health. Many of these issues are tied to tissue inflammation, a major component of chronic gum disease, as well as slower tissue healing. As specialists in the gums and their relationship with the rest of the body, a periodontist can develop a treatment approach that coordinates with these other health issues.
Future restoration preparation. One of our treatment goals with gum disease is to try to prolong the life of natural teeth for as long as possible. In reality, though, some or all of your teeth may have a shortened life expectancy. If a comprehensive dental restoration is in your future, a periodontist can help prepare your gums for the inevitable. They may also be able to repair or restore gum tissues that enhance the appearance of a restoration to create a more attractive smile.
If you would like more information on advanced treatment for periodontal disease, please contact us or schedule an appointment for a consultation. You can also learn more about this topic by reading the Dear Doctor magazine article "Referral to a Dental Specialist."