My Dentistry Blog
Posts for tag: pediatric dentistry
By Colonial Dental Group
January 04, 2016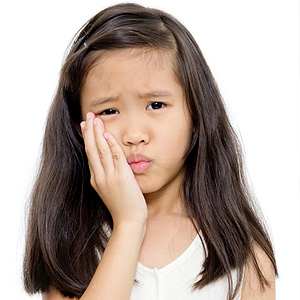 Even though a child's primary ("baby") teeth eventually give way, it's still important to treat them if they become decayed. Primary teeth serve as guides for the emerging permanent teeth — if they're lost prematurely, the permanent tooth may come in misaligned.
If the decay, however, affects the tooth's inner pulp, it poses complications. A similarly decayed adult tooth would be treated with a root canal in which all the pulp tissue, including nerve fibers and blood vessels, are removed before filling and sealing. Primary teeth, however, are more dependent on these nerves and blood vessels, and conventional filling materials can impede the tooth's natural loss process. It's better to use more conservative treatments with primary teeth depending on the degree of decay and how much of the pulp may be affected.
If the decay is near or just at the pulp, it's possible to use an indirect pulp treatment to remove as much of the softer decay as possible while leaving harder remnants in place: this will help keep the pulp from exposure. This is then followed with an antibacterial agent and a filling to seal the tooth.
If the pulp is partially exposed but doesn't appear infected, a technique called direct pulp capping could be used to cover or "cap" the exposed pulp with filling material, which creates a protective barrier against decay. If decay in a portion of the pulp is present, a pulpotomy can be performed to remove the infected pulp portion. It's important with a pulpotomy to minimize the spread of further infection by appropriately dressing the wound and sealing the tooth during and after the procedure.
A pulpectomy to completely remove pulp tissue may be necessary if in the worst case scenario the pulp is completely infected. While this closely resembles a traditional root canal treatment, we must use sealant material that can be absorbed by the body. Using other sealants could inhibit the natural process when the primary tooth's roots begin to dissolve (resorb) to allow it to eventually give way.
These all may seem like extraordinary efforts to save a tooth with such a short lifespan. But by giving primary teeth a second chance, their permanent successors will have a better chance of future good health.
If you would like more information on treating decay in primary teeth, please contact us or schedule an appointment for a consultation. You can also learn more about this topic by reading the Dear Doctor magazine article "Root Canal Treatment for Children's Teeth."
By Colonial Dental Group
April 09, 2015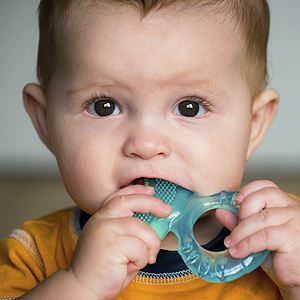 The arrival of your child's first set of teeth is a natural and expected process. But that doesn't mean this period of development, commonly known as teething, is an easy time: your baby will endure a fair amount of discomfort, and you, perhaps, a bit of anxiety.
Knowing the facts about teething can help you reduce your child's discomfort — as well as your own concern — to a minimum. Here are a few things you need to know.
Teething duration varies from child to child. Most children's teeth begin to erupt (appear in the mouth) between six and nine months of age — however, some children may begin at three months and some as late as a year. The full eruption sequence is usually complete by age 3.
Symptoms and their intensity may also vary. As teeth gradually break through the gum line, your baby will exhibit some or all normal teething symptoms like gum swelling, drooling and chin rash (from increased saliva flow), biting or gnawing, ear rubbing, or irritability. You may also notice behavior changes like decreased appetite or disrupted sleep. These symptoms may be a minimal bother during some teething episodes, while at other times the pain and discomfort may seem intense. Symptoms tend to increase about four days before a tooth emerges through the gums and about three days afterward.
Diarrhea, rashes or fever aren't normal. These symptoms indicate some other sickness or condition, which can easily be masked during a teething episode. If your child exhibits any of these symptoms you should call us for an exam to rule out a more serious issue.
Keep things cool to reduce discomfort. There are a few things you can do to reduce your child's discomfort during a teething episode. Let your child chew on chilled (but not frozen) soft items like teething rings, wet washcloths or pacifiers to reduce swelling and pain. Gum massage with your clean finger may help counteract the pressure from the erupting tooth. And, if your doctor advises it, pain relievers in the proper dosage may also help alleviate discomfort. On the other hand, don't use rubbing alcohol to soothe painful gums, or products with the numbing agent Benzocaine in children younger than two unless advised by a healthcare professional.
If you would like more information on dealing with teething issues, please contact us or schedule an appointment for a consultation. You can also learn more about this topic by reading the Dear Doctor magazine article "Teething Troubles."
By Colonial Dental Group
February 13, 2015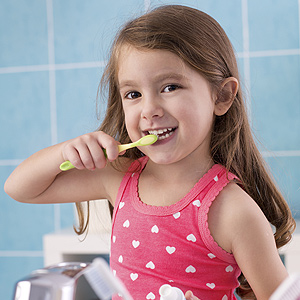 Every February, the American Dental Association sponsors a campaign called National Children's Dental Health Month. The purpose of this operation is to raise awareness about how important it is to get an early start on developing good dental hygiene habits — and how this can lead to a lifetime of healthy teeth and gums. So we thought this might be a good time to answer some of the most frequently asked questions about how to do exactly that:
When is it time to start cleaning my baby's teeth?
As soon as you see one! The earlier your child gets used to a daily dental hygiene routine, the better. Baby teeth that have not fully emerged from beneath the gums can be wiped with a clean, moist washcloth after feedings. A tooth that has grown in completely should be brushed twice daily (once in the morning and once in the evening) with a soft, child-sized tooth brush and a thin smear of fluoride toothpaste. Fluoride is an important weapon against tooth decay, but you don't want your child to swallow too much.
Can babies get cavities?
Absolutely — especially if they are allowed to fall asleep routinely with a bottle filled with anything but water. Milk, formula — even breast milk — all contain sugars that should not be left to pool around your baby's teeth during sleep, facilitating decay. Juice is an even bigger no-no because it is not only sugary but also acidic.
Can't I give my child sweets once in a while?
We realize total avoidance of sweets may not be realistic, as beneficial as this would be for your child's teeth. If you are going to allow your child to have sweets once in a while, better that the treat be given immediately following a meal, and not as a between-meal snack. Soda should really be avoided completely — it's that bad.
When should I take my child to the dentist for the first time?
The experts say: Get it done in year one. That's right — even though your child won't have many teeth by age 1, there's a lot we can do at that first visit to ensure good oral health now and well into the future. We will do everything possible to make sure your little one has a positive first experience in the dental chair; this helps set the tone for the many important preventive visits yet to come. It's also a great opportunity for you to ask any specific questions you may have, and receive hands-on instruction on how to care for your child's teeth and gums.
If you would like more information about children's oral health, please contact us or schedule an appointment for a consultation. You can learn more in the Dear Doctor magazine articles "Taking the Stress Out of Dentistry for Kids" and "Age One Dental Visit."